Sometimes it's a lot easier to read something than to hear. If you are given bad news, or having to say something hard. It can feel easier behind the safety of a screen. You can take your time, and craft what you think is the perfect response. Plus any potential backlash will be delayed.
I've had some experiences a few years ago which involved some differences between a friend and myself. I asked to call them, but they said they wouldn't be comfortable speaking over the phone. I insisted another time, but I didn't want to pressure them. I ended up settling with texting, and quickly things fell apart.
We ended up focusing on different parts of what the other person was texting, and what started as short texts turned into long paragraph attempting to address everything the previous person had written.
Now, if I have to have a serious conversation with someone I feel I have to do it in person or over the phone.
What is Missing?
This sounds like a silly question, but it's important to understand exactly what is different in order to make an informed decision about how you are communicating.
No Tone
The biggest difference is written word lacks vocal tone. It's hard to know how someone will read your tone through text.
"Awesome." vs. "awesome" or "Okay." vs. "ok"
They're the same words with the same meanings
The greatest writers can't always account for the exact ways words are interpreted. Everyone has different experiences and associations with words. This can lead to situations where someone thinks you are speaking in a way you're not.
According to a Psychology Today article written by Melissa Ritter this can be because we often fill in the blanks in tone with our own feelings when there is nothing else to go on. She give the example, if you already think you're being criticized you'll read the words in a criticizing tone.
No Pacing
Communication over text can fall apart as people in the conversation focus on different parts of the text. Focusing on something the other person might not be, and unlike real time conversation it can be hard to address all of the topics in each text.
But, I think that this is starting a dangerous trend. I think that it's having people be too uncomfortable to interact with people face to face, and to deal with the real world in real time.
I understand I sound a bit like a tinfoil hat wearing old man, but I think that it is important because I find that I'm guilty of occasionally hiding behind a screen like anyone.
A great quote from Reclaiming Conversation by Sherry Turkle, a sixteen year old described using computers versus real-life.
"Real people, with their unpredictable ways, can seem difficult to content with after one has spent a stretch in simulation."
That description is hyperbolic, but I think there is a grain of truth in there. The ability to take you time, the ability to handcraft what might be the perfect message may just be stifling the ability to actually have these conversations.
What Can Help?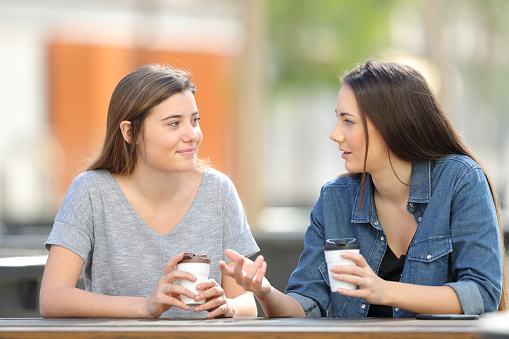 Understanding the time and place for text is the first step in understanding how to use it effectively. Texting people is great, I'd dare to say that 60% of my conversations recently have been over text.
I do not think these issues are coming from a loss of human connection. According to this 2015 CSU study people don't lose empathy because of online communication.
Now with social distancing, I think would be a good time for people to practice talking face to face using technology. The ability to contact with family, and friends is fantastic. Technology should assist you in situations, not make it worse.